Ok ignore the exact sizes compared with one another I am not good with maps but this give the general lay out of the Chantry.
Floor 1:
A: Library
B: Kitchen
C: Common Room
D: Staircase
E: Council Chambers
F: Storage room/meeting room
H: Security Office
G: Rare book storage, for books that need special conditions, like a very dry dark room.
!: Staircase down to the basement
J: Path to the garage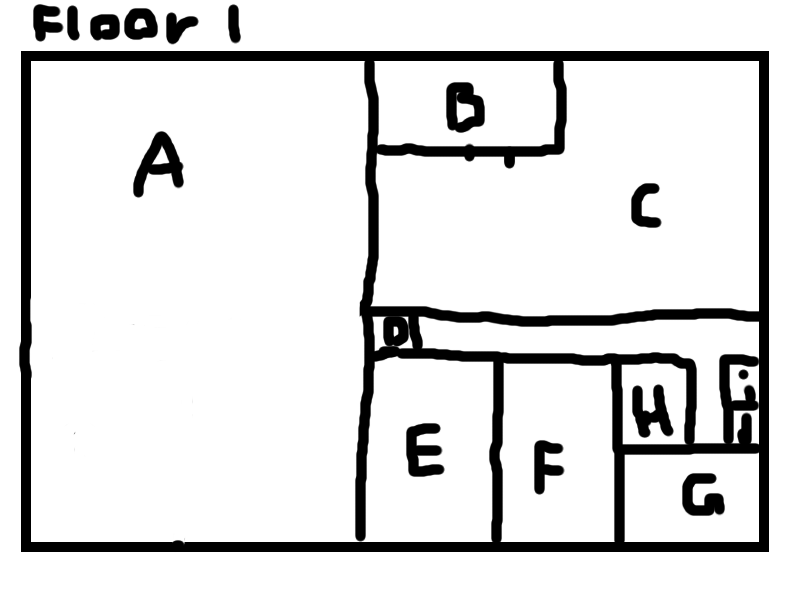 Floor 1 and 2
These floors are just long corridors with 18 apartments on each floor. Each floor also have a linen closet though on the second floor this linen closet have been made into Narim's office. The apartments are about 55 square meters in size.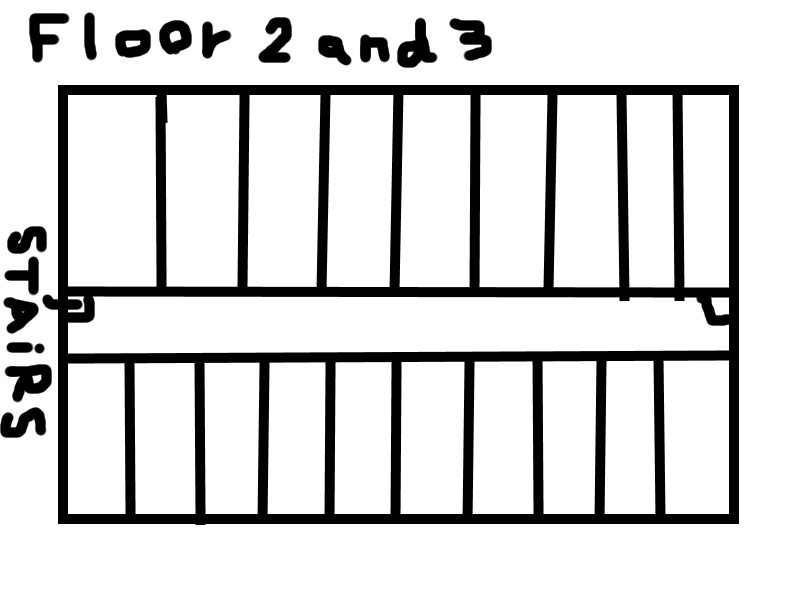 I will make some maps of the basement and attics and the apartments as soon as I have the time, and sorry for not being very good with maps.
Attic:
A: Staircase to the flat room.
B: Large open unused room.
C: Chapel
D: Apartments
E: Training room that the Verbena and the Akashic tend to use.
F: Storage room
G: Staircase down to the third floor.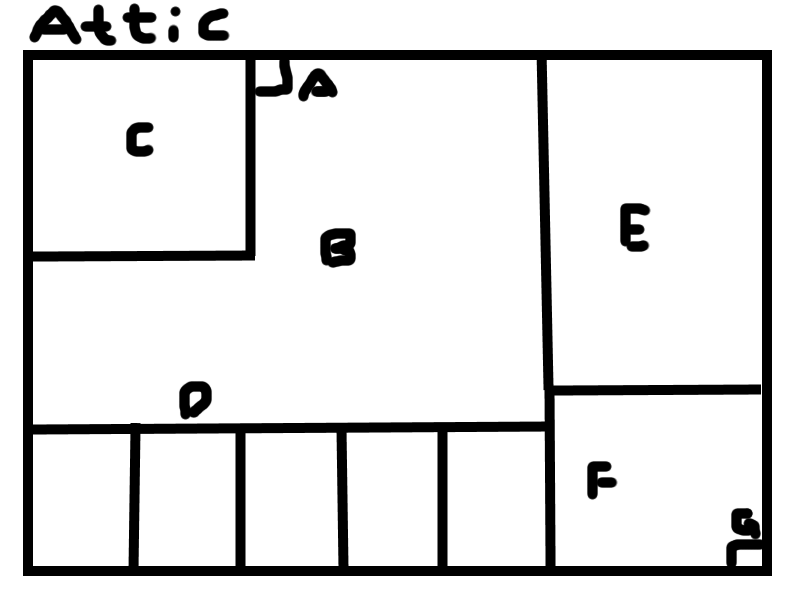 Basement:
A; Basement entrance and staircase up to the first floor
B: Storage room/Raymond's cell
C: Gas and heating
D: Storage room
E: Actual cell, it is the cell Gloria is kept in.
F: Storage room
G: Storage room/Ulv Bergen's cell
H: Wash room/Diego's cell
I: Wine cellar
J: Hobby room
K: Hallway
L: Laboratory
M: Ritual room (The one where Beatrice was allmost Gilgulled in)
N: Laboratory
O: Ritual room
P: Ritual room
Q: Ritual room
R: Ritual room
S: Node
T: Tass and talisman storage
U: Corridor
Individual apartments
And this is the layout of the individual apartments:
A: Door
B Living room
C Kitchenette
D: Bathroom
E: Bedroom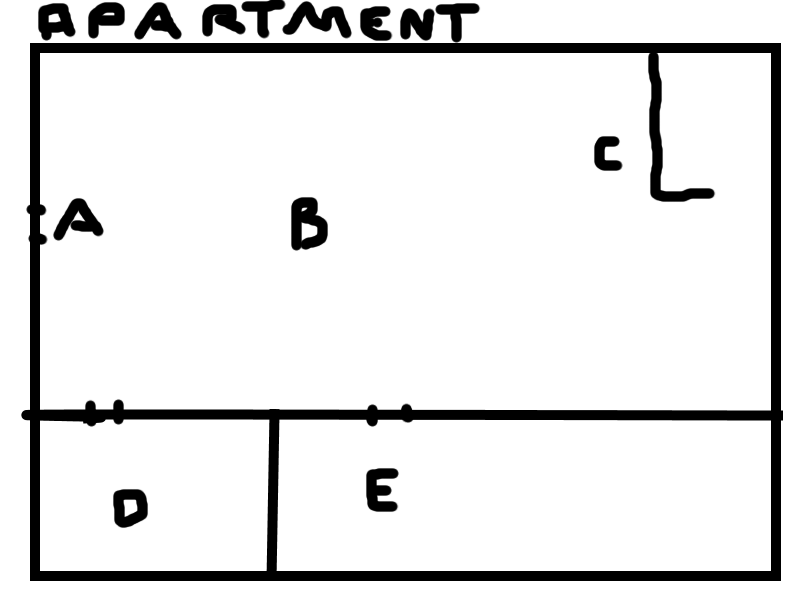 Last edited by Anja Rebekka Schultze on Sun Dec 27, 2015 3:13 pm; edited 1 time in total
No problem and I will get to the rest of the floors.
I have added the attic, the basement and the individual apartments. Again sizes might not be perfect but they give the general idea.
Because there is nothing quite like tearing your house apart ILR to make you want to do something in Sims that you can fix with a point-click while paint dries. I used the biggest lot there was in Sims 4, which admittedly was not quite big enough (Sims 2 had better lots). Some of the stairs did not line up as above once it was stacked so I adjusted them, but its pretty close enough for functional. I filled in some areas with bathrooms and there's a deck and the garage. Here's the outside pic I used for reference along with the above maps:
117 Heath St
, Boston:
Basement:had to move the stairs slightly to make them work but there is separate access to both sides of the U-shape still.
Ground Floor: ! goes down to the two staircases in the basement, on either side of the U-shape. Stair J goes up to the deck from a storage garage. M is a door between the storage area to the car garage, L is the car garage door exit. K is the main front door.
2nd Floor: If Colin's room is 216, Adley's would probably be 212 and Bee is across from that. Stair E goes to Floor 3 Stair D goes to Ground. N is Narim's office.
3rd Floor: had to move the stairs; stair E goes to the Attic. L is the laundry/linens room.
Attic: Stair G goes to the roof here, since there was a roof garden. I didn't see how the stairs could be there going down without making the entire building have a weird staircase (aside from magick, which is totally plausible).
Last edited by s7trif3 on Wed Aug 23, 2017 5:32 am; edited 8 times in total (Reason for editing : Photobucket : / had to migrate pix)
Ohhh nice thank you.

Give Adley 1 free exp for the extra effort you have put in.
Well you are the one that deserve thanks, now we have a better idea for how Steelhaven Hall actually looks like.
Dumb Photobucket - I have migrated the maps to Tumblr xD
Thank you.


---
Permissions in this forum:
You
cannot
reply to topics in this forum